Debunking The Myth: 4 Ways That Linear HDPE Tanks Are Superior To Cross-Link (PE) Tanks
There's a common misconception in the industry that cross-link polyethylene (PE) tanks are better than linear high-density polyethylene (HDPE ) tanks.
This is just not true.
Crosslink was superior to linear once. However, this was way back in the 80's.
Consistent research and improvements in linear HDPE have led to significant advancements in linear HDPE technology, while innovation in crosslink PE technology has been almost at a stand still.
According to our suppliers at Snyder industries and Peabody Engineering, both of whom manufacture linear AND crosslink tanks, linear tanks have evolved to outperform crosslink tanks in several ways:
1. Durability and robustness
The type of resin or tank material is a critical part of the tank design. Different resins have different levels of durability. The application is generally what determines what type of material the tank should be made from.
Two commonly-stored chemicals in crosslink PE tanks are Sulfuric Acid and Sodium Hypochlorite. Crosslink tanks lose impact resistance and ductility when used with these chemicals.
They are also vulnerable to tensile break elongation, also known as fracture strain or tensile elongation at break. This is the ratio between increased length and initial length after breakage of the tested specimen at a controlled temperature. It relates to the ability of a plastic specimen to resist changing shape without cracking.
Any HDPE, whether linear or crosslink, will perform differently after it has been exposed to chemicals for 1000 hours. A crosslink PE tank that had sulphuric acid in it for 1000 hours would shatter if exposed to any kind of impact and crack under environmental stress.
According to the resin manufacturer, linear HDPE has better tensile strength over time when used with the most common industrial chemicals.
The graphs below depict how the different resins adapt to chemicals such as Sodium Hypochlorite (Graph 1) and Sulphuric Acid (Graph 2), over time.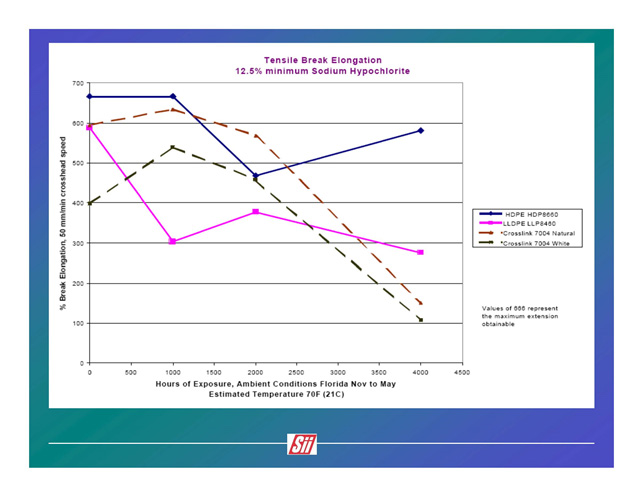 Graph 1: Tensile Break elongation when storing sodium hypochlorite
Graph 2: Tensile Break Elongation when storing Sulphuric Acid
Clearly, new linear HDPE tanks are superior when storing aggressive chemicals.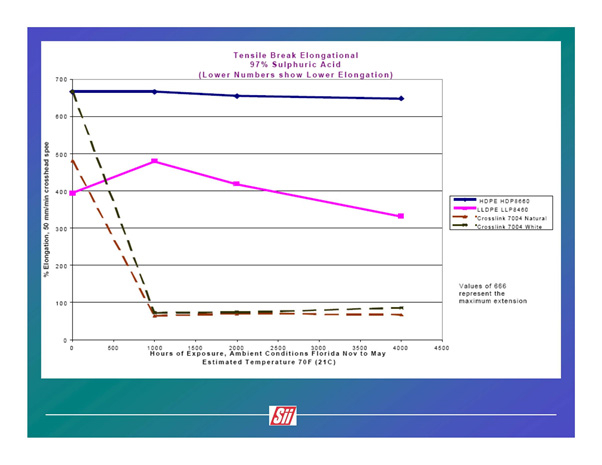 2. Easy repair
Linear polyethylene is extremely flexible and can be fitted with long-lasting high-performance welded fittings. This allows tanks to be repaired by welding, unlike crosslink tanks, which cannot be welded. This can be very important when designing a tank using unique or site-specific fittings. The linear HDPE can more easily adapt to these fittings to become a strong customized tank that is easy to repair.
3. Declining market share
Of the 900 million pounds of all resin used over the last year worldwide, less than 5% was crosslink. Of this 5%, half was used to mold tanks and bladders for oil, hydraulic fluid and gasoline. The primary market for crosslink is the automobile and tractor industry, where crosslink is used to contain petroleum products.
As market demand for crosslink decreases as people switch to linear HDPE, the global preference is linear HDPE.
4. More affordable and longer lifespan
Chemical storage tanks do not require crosslink and with a few exceptions, all chemical tank applications have moved to linear, which is a more cost-effective material. As we've seen, it's also more robust when storing aggressive chemicals.
New linear resins also have much greater UV resistance than crosslink. Thus, the expected life of a linear tank is much longer than that of a crosslink tank.
Do you have more questions about using a crosslink PE or linear HDPE tank to store chemicals in your facility? Call our toll-free number on 1-800-367-4180. We have experts on hand to help you choose, install and maintain a variety of equipment. And to answer questions about things you've previously tried gone wrong.